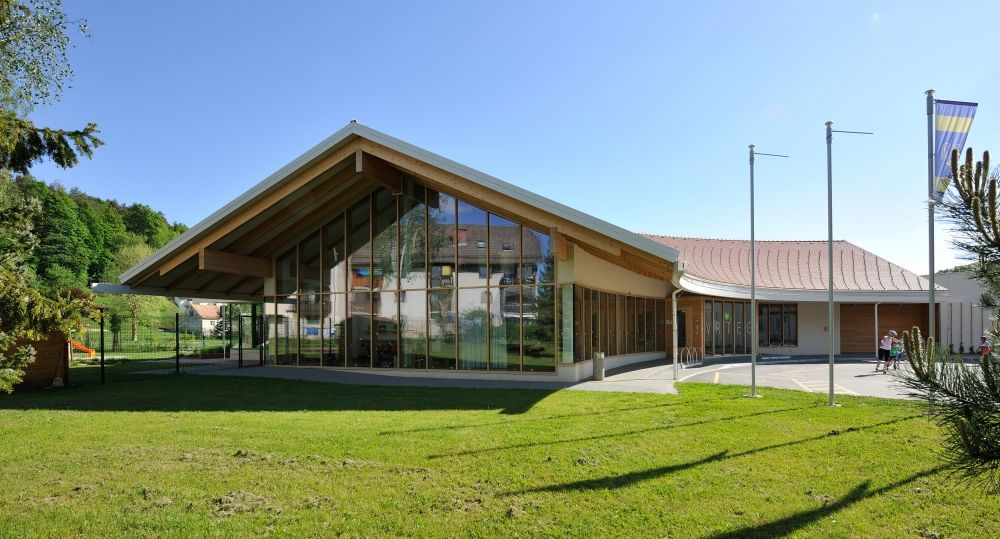 Abaut us:
Dobrna kindergarten is a part of Primary school Dobrna JVIZ OŠ Dobrna. In kindergarten there are 7 groups of children, about 130 children. There work 7 preschool teachers, 8 preschool teacher assistants, 2 chefs, 1 headteacher. Preschool education is provided in two ages groups: – First: children aged 1 to 3 and
– Second: children aged 3 to school age (6).
Dobrna kindergarten may implement full day, half day and shorter programs. Programs encompass education, care and meals. The curriculum in most of the kindergarten in Slovenia is based on the Curriculum for preschool Institutions. It covers the following areas: movement, language, art, nature, society and mathematics but the kindergarten is enhancing it with advanced approaches, such as NTC learning, forest pedagogy, systematic monitoring of child development. Kindergarten Dobrna has a long experience in the field of theater, forest pedagogy, mathematics and movement. Kindergarten has theater group of educators who each year prepare some theater and puppet shows for children, performed in the forest playground.
Kindergarten Dobrna was coordinator of Erasmus + K2 project entitled: 'The doll has a soul' that connects the doll with mathematics. This year we started working on an international project linking STEAM and fairy tales. We have a partner role. The project is led by Ksenija Ulaga, kindergarten manager. If there is any change, we have guaranteed replacement, because the kindergarten has extensive experience with international projects.
Kindergarten is located in a healthy environment, so everyone involved is interested in maintaining the condition and improving our habits. We also have experience with the STEAM pedagogical approach that we want to relate to the environment.
Every year we go with the children for three days in the eco house which is situated in the Logar valley. In this house everything is ecological. Every April we have a whole month without toys. We play with natural materials. Because we care about our environment we separate all the garbage. In new project will be a lot of employees with diferent roles. Headmaster will present the project in a diferent associations. Preschools teachers and the teacher for the childreen for special need will do together on the topic of the project. Our organisation includes also the primary school. So teachers from first till third classes will do some part of the project. Children will be introduced with diferent food from countries of our partners. For that we will need masterchiefs. We will coperate with local sociaties and local farmers. Nearby we have institution for the children with special needs.They also produce their own food. We will share our experience.
The kindergarten strive to create an environment in which children can acquire knowledge and skills to become fully functioning human beings. Kindergarten Dobrna has international experience and managerial competencies acquired through Erasmus K2 project management.
Address:
Dobrna 1a, 3204 Dobrna, Slovenia
Links:
https://www.facebook.com/E.A.R.T.H.VrtecDobrna
Domov
Projekt E.A.R.T.H